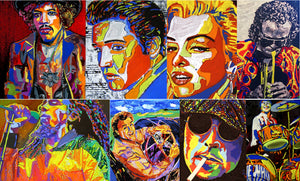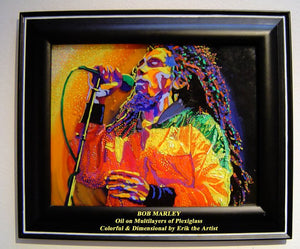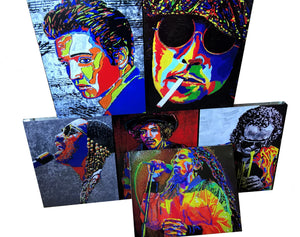 Paintings on T-Shirts, Posters, Canvas and Plexiglass
Artwork HBO Perry Mason
Erik the Actor on Perry Mason HBO
I was fortunate enough to be cast to play one of the photographers on this amazing experience. I worked over 40 days and during winter break decided to paint the Logo of the show for director Tim and prints up some t-shirts for some of the rest. Stephen Root's reaction was priceless, as he was already familiar with my techniques and art from conversation on set. Also Matthew Rhys can't say enough this quality chap from Wales and hoping the Robert Downey Jr. got his from wife Susan!
Erik the Artist
Born Erik-Jan Pliner of Dutch, German, Russian, Romanian ancestry, with a Bachelor degree in Fine Arts Indiana University, Bloomington.
Patrons include: Steve Wynn, Jay Leno, Lenny Kravitz, Stevie Wonder, Paul Anka, Don Was, Oscar Goodman, Brian and Mark Cuban.
Ink on Canvas, Multi-Dimensional Illuminated on Plexiglass and Original Paintings for sale click Store to view starting at only $79.99
Bespoke Men's Club - Paintings by Erik the Artist
Hosted by Rodney McLeod and Malcolm Jenkins
Damari Savile and Back of House first annual Men's Club during ESPY week Downtown Los Angeles Fashion District. Featuring the very best in clothing, art, jewelry, whisky and grooming.
George Lopez 11th Annual Fundraiser
Celebrity Golf Classic 2 Day Event
George Lopez Foundation raised over $800,000. Erik the Artist proud to have assisted with artwork donations exceeding $5,000. See Erik's paintings and some of the celebrities from the 2 day spectacular event!
Logo Updated into Dimensional Art
3-D Color Changing Effect in Dimension
Updating an existing logo into a dimensional, color changing piece of art. Great for signs, displays and printed formats of any size.
I can paint anything in this style from a logo to a photo. All dots of detail, layered in dimension and illumination.
Video Presentations
Tim McGraw Painting
Black and White painting on multiple layers of plexiglass. 
Illumination from within and from behind.
Video shows depth and effect of light and layers.
Stevie Ray Vaughan painting
Painted on Multiple layers, watch the painting change colors.
Comes with a remote control, pick your effect or color.
Celebrities with Erik the Artist Paintings on T-shirts
GBK Productions Pre-AMA's West Hollywood, CA
Great celebrities at this event with the T-Shirts they picked from Erik the Artist's paintings on them.
Super Color Quality direct Ink to Garment Printing
All T-Shirts shown are available now online in Store
Celebrities with Erik the Artist Posters
GBK Productions Pre-AMA's West Hollywood, CA
Great celebrities at this event with the posters they picked from Erik the Artist's paintings.
Super Color Quality and also available on canvas.
All posters available now online in Store
google-site-verification: google8316dc382a8856e8.html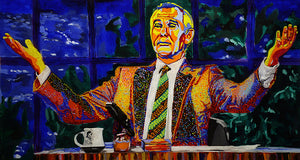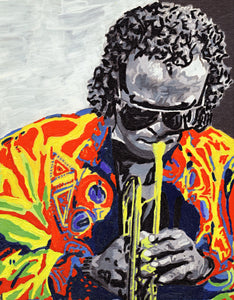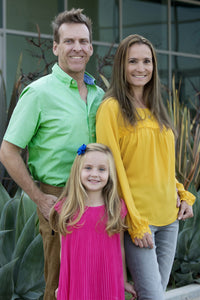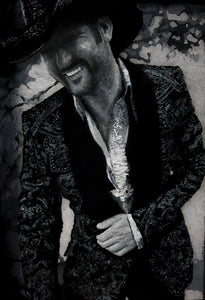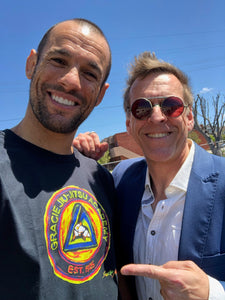 Ryron Gracie and Erik the Artist
Artist version of the Gracie Academy Logo